Michael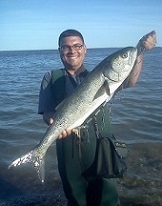 Joined: 28 Jan 2012
Posts: 3823
Location: Bridgeport
Posted: Thu Aug 25, 2016 10:44 pm

Post subject: 8/23 & 8/25

---

Tuesday and Thursday I hit Fayerweather Island again. Both days I arrived around 4pm. Hardly any clouds in the sky with dry air and mild temps on Tuesday. Increasing clouds throughout the day Thursday with humid air and warmer temps. Both days had south and southwest winds, but Thursday was gusty. Thursday's water temps had been ranging from 77.5 to 78.4.

Tuesday was once again very slow at the rocks. I had no action and so did a fellow surfcaster. It was very slow at the spot where I've been into the smaller blues for the past few weeks. I only landed 3. They were staying near the parked boats this time.

Thursday was when there seemed to have been a change in the blues. When I arrived I hung out at the Black Rock lighthouse for a while as the southerly winds stayed gusty. Eventually I get up to walk to the concession stand to grab a bottled water. When I get up onto the Fayerweather jetty was when I spotted a few fellow surfcasters and gulls active.

Throughout the later afternoon into the early evening, the small blues would start busting peanut bunker and silversides near the beach before coming within range along the jetty. Things shut down after a small passing shower moved through and it was after sunset.

I only landed 1 this time but had tons of explosions and lost 3. The way the blues were being with topwater this time was they'd go for it but not take it. Spoons seemed to have been catching more.

Thursday's bluefish action was very similar to early September 2015 when the blues started getting active in the open waters along the beach all the way to the western side of Breezy Point. By that time, nothing much was happening inside Black Rock Harbor anymore.

It's looking like the next new moon might have a big impact on the current bite, making things turn on even more and get the bluefish to start gathering up into bigger schools and busting more often.