Michael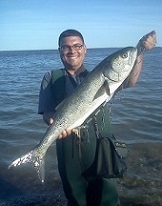 Joined: 28 Jan 2012
Posts: 3823
Location: Bridgeport
Posted: Sun Jul 31, 2016 6:25 pm

Post subject: Awesome Evening Bite!

---

Sunday afternoon I decided to check out Beardsley Park, from the upper sections along the Pequonnock down to a few spots at Bunnell's Pond. Arrived around 3:45. Skies were mostly cloudy, air was moist and cool, winds were southeast 8 to 12, and showers were lingering in the area with a slow moving front.

Was surprised and disappointed with the bite at Beardsley, so once it was 6, I hit the lower Pequonnock.

At the Wonderland of Ice, water was flowing nicely and was clean. 2 lures working were a Brown Trout FLR-6 and G-Finish Shad Tiny Torpedo. Landed 2 cookie cutters, 1 small crappie, and 1 redbreast with the FLR-6, along with 4 cookie cutters on the Tiny Torpedo.

Next I hit the lower tidal section at Glenwood Park. That's were I had a topwater bite going on the Tiny Torpedo. Cookie cutters up to chunky 1 pounders and small stripers up to 8" were slamming the Tiny Torpedo! The Tiny Torpedo, along with the FLR-6, caught me at least 10 cookie cutters and small stripers combine!

Once the fish stopped hitting, as if I caught all of them, I hit the stretch along BMW of Bridgeport. That's where I landed 3 yellows up to 7" on the FLR-6 and 5 cookie cutters on the Tiny Torpedo and FLR-6 combined!

Hit the road just before 8.

The bigger cookie cutters were really pulling on my 5'6" Powerlight rod and 6lb IronSilk line.