Michael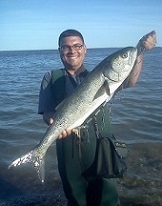 Joined: 28 Jan 2012
Posts: 3823
Location: Bridgeport
Posted: Thu Jul 14, 2016 11:55 pm

Post subject: Battalion or Dolphin?

---

I'm looking into getting an 8 foot surf rod. Currently have an 8' Star Aerial that I need to send to warranty service. Am very happy with my 9' and 7'6" Star Stellar. Star doesn't sell a 2 piece version of the 8' Stellar rated up to 3oz.

2 rods I'm considering are the Tica Dolphin and Penn Battalion. Between the 2, which one would be the choice for casting 1 to 2.5 ounce topwaters and also have quality materials for the urban angler who travels by bike and bus and also walks a lot carrying the rod? Jetty fishing too and easy to cast with for a person with short arms.