Michael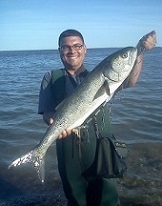 Joined: 28 Jan 2012
Posts: 3823
Location: Bridgeport
Posted: Fri Feb 05, 2016 11:00 pm

Post subject: Beat the Skunk 2/5

---

Once the snow stopped, sun came out, and I got a few things done, I hit the funeral home pond for no more than 45 minutes until just after sunset.

I stuck with a Helsinki shad HJ-6, which caught me a cookie cutter around a pound.

The pond only had very skim ice in 2 small shallow areas. Otherwise, is was all open.

A new item I started using today was a Penn Battle II 2500. My Fierce 2000 got heavy usage for about 4 years and wanted to upgrade. Line I put on was Berkley Trilene XT 6 pound mono.