PECo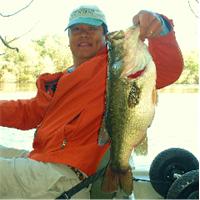 Joined: 06 Oct 2009
Posts: 5201
Location: Avon, CT
Posted: Fri Jun 02, 2017 9:32 pm

Post subject: Bishops Swamp 06/02

---

The weather forecast called for half a day of nice weather before a good chance for an electrical storm, so I decided to paddle Bishops Swamp in the morning.

I ended up fishing from 8:20 am to 12:40 pm, when the wind became too much to bear. Until then, though, it was a beautifully sunny day, although the steady wind couldn't seem to decide whether it wanted to blow from the west or the south. The water was very clear. During the few periods of relative calm, I could see down to the bottom at least four feet. At the north end of the pond, there was a good carpet of green coontail weed on the bottom that got more brown as you headed south. There were quite a few lily pads and many more emerging. The water temperature was 69 degrees. I only checked it once, because I like 69.

I began the day by throwing a Bullfrog Zoom Horny Toad in the shadows over the weeds and pads along the east shore. At that point, the wind was blowing from the west, so I was throwing a lot of curveballs. I caught my first topwater frog fish of the year without even setting the hook; it was just THERE when I started reeling after it hit the water:



I did get to set the hook on the next one, but it was just an overly ambitious short. I decided to head upwind across the pond to the west shore and switched to a wacky-rigged Green Pumpkin with Red Flake five-inch Senko. I caught another small keeper largemouth bass when I tossed it into a bed of pads out in the middle of the pond.

After that, though, the wind picked up and I decided to explore some of the shallower areas of the pond to the south. Of course, as soon as I did, the wind picked up even more, so I headed back up the west shore, hoping to get out of the worst of it. It didn't help much, though, so after catching a couple of tiny chain pickerel with the Horny Toad and one more small keeper largemouth bass with the Senko, I got off of the water.

This was my first trip to Bishops Swamp without seeing at least one five-plus pound largemouth bass. I guess that a sunny, pre-frontal day wasn't the best time to go.
_________________
Don't forget to wear sunscreen and don't litter!