PECo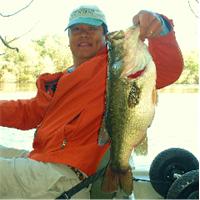 Joined: 06 Oct 2009
Posts: 5203
Location: Avon, CT
Posted: Mon Mar 12, 2018 7:21 pm

Post subject: Connecticut River - Hamburg Cove 03/12

---

I knew that the water temperature hadn't changed, but I'm determined to not miss the anadromous white perch spawn, this year, so I headed back down to Hamburg Cove.

The air temperature was in the low 40s, which matched the surface water temperature of 42 degrees. The water was really clear. I could see my white, two-inch grub jigs on the bottom at least six feet down, even with the glare from the totally overcast sky. Yes, I said "jigs", because I ran out of drop shot weights, so I used a 1/8 ounce white grub jig as a weight. There was a steady five to 10 mile per hour wind out of the west.

I fished from 1:00 pm to just after 4:00 pm. I ended up catching three yellow perch, one largemouth bass and one chain pickerel. There was no sign of any white perch, but I had expected that. Here are a few photos:






_________________
Don't forget to wear sunscreen and don't litter!