PECo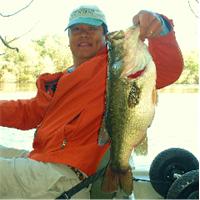 Joined: 06 Oct 2009
Posts: 5203
Location: Avon, CT
Posted: Tue May 01, 2018 9:23 am

Post subject: Connecticut River - Hamburg Cove 04/28

---

I got home from Manhattan at 8:00 am on Saturday, but it was such a nice day that I decided to drive all the way down to Hamburg Cove to check it out, once again. After all, I had caught a still gravid white perch during my previous trip only four days earlier on 04/24, so I still had hope that I hadn't yet missed this year's white perch spawn. Except for a little bit of a wind, the conditions looked pretty good:





I ended up paddling the cove for five hours, from 11:45 am to 4:15 pm. While I caught the usual big chain pickerels and yellow perch, I caught only two and five of each, respectively:





I didn't see any striped bass or, most importantly, white perch. In fact, the best fish I caught all day was this 14+ inch black crappie:



The scarcity of big yellow perch tells me that their spawn is over and the big schools have left the cove. The absence of white perch tells me that I've missed their spawn, again, this year.

So, I'm done. I give up. Until next year. . . .
_________________
Don't forget to wear sunscreen and don't litter!