PECo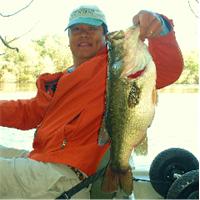 Joined: 06 Oct 2009
Posts: 5201
Location: Avon, CT
Posted: Tue May 01, 2018 7:57 am

Post subject: Connecticut River - Salmon River 04/29

---

Dan1 (aka Dan) and I fished the Connecticut Yankee Atomic Power Plant canal for a short time on Sunday. We launched at Salmon River Boat Launch in East Haddam, because the water level in the Connecticut is very high and the current was ripping down the river. The ramp at Salmon River is off of the main channel of the Connecticut, so it's easy and safe to launch there, even though there aren't any docks. The DEEP website says that the dock pilings were heavily damaged by ice, so it might be a while before they're installed. The ramp was, however, still flooded:



We launched at 9:10 am in Dan's bass boat. It was raining lightly, but there was very little wind:



Although there were a couple of boat trailers in the lot at Salmon River, there weren't any other boats in sight as we headed up into the canal. We were fun fishing, so I threw an unpainted 1/16 ounce Arkie ball jighead with a white two-inch Yum! grub, while Dan threw a Ned rig with half of a five-inch Black with Blue Flake Senko on it.

Dan got the first bite and caught his first largemouth bass of the year. Obviously, we couldn't figure out a way to make it look big in the photo:



Meanwhile, my little perch jig caught everything BUT perch. I caught three or four tiny black crappie:



I also caught a couple of sunnies, including a pale one that must have been Scandinavian. But, then, I caught this dirty-looking little thing that made both me and Dan say, "WTF is THAT?!?!":



Greaaat, my first rock bass of the year. Yipee!

When the wind picked up and the 50 percent chance of rain turned into 100 percent, we decided to get off of the water and go out for lunch. We hit the ramp at 12:10 pm, when the tide was even higher. I had to guess where to back the trailer into the water:



It was nice to get out onto the water for a little while, but I still can't believe that I couldn't catch a yellow perch. I think now that the yellow perch spawn is over, they've dispersed away from the canal. I saw the same thing, recently, in Hamburg Cove. Once, again, I've missed the yellow perch spawn AND, apparently, the white perch spawn, too.

I guess there's always next year. . . .
_________________
Don't forget to wear sunscreen and don't litter!