billybass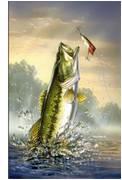 Joined: 29 Dec 2009
Posts: 315

Posted: Sun Jan 18, 2015 3:23 pm

Post subject: Ct river coves

---

On the ice yesterday by 6:30 am , slow start for the
First hour and then it was on all day, 3 of us out their
Had put almost every species on the ice. Perch,pike,bass,
Bowfin, crappie , guys the river coves can have some big
Surprises. Great spots if you like weight on the end of your
Line.