PECo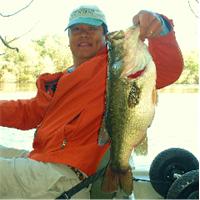 Joined: 06 Oct 2009
Posts: 5201
Location: Avon, CT
Posted: Mon Jul 24, 2017 8:15 am

Post subject: East Twin Lake 07/18

---

I fished East Twin Lake on Tuesday, but couldn't post a report until after my bass fishing club tourney there on Sunday. I was lucky to have my buddy Sam guide me, because it's Sam's "home" lake. He told me that the primary forage in the Twin Lakes is crawfish. More specifically, orconectes virilis, which is a large crawfish with blue and orange claws.

We were on the water from just after 7:00 am to just after 5:00 pm. The skies were mostly overcast and we enjoyed mostly calm air all day. It DID get hot, though. It was pleasant in the morning, but got up to about 90 degees in the afternoon. The water temperature was 77 to 78 degrees. As usual, because the Twin Lakes are blessed with zebra mussels, the water was clear down at least eight feet.

I'm a shore banger, at heart, but Sam suggested that we throw jigs. And jig we did, with a variety of skirted jigs with blue and orange clawed craw trailers. We caught about a dozen largemouth bass up to about 3-1/2 pounds. Our five-fish tourney bag would probably have been about 15 pounds.





Half of the largemouth bass had crawfish antennae sticking out of their gullets. This one still hadn't completely swallowed the orange tipped claws:



We didn't measure any of the largemouth bass, but we did weigh a couple of the many big rock bass that we caught. Sam agrees with my long held belief that the State Record rock bass swims in East Twin. I just might try to catch it next Spring.
_________________
Don't forget to wear sunscreen and don't litter!