Michael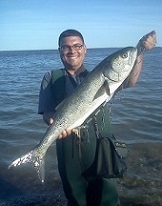 Joined: 28 Jan 2012
Posts: 3823
Location: Bridgeport
Posted: Sun Mar 08, 2015 9:45 pm

Post subject: First Sound of Spring on 3/8

---

While fishing the local TMA Sunday, I heard a bird call. I looked in that direction and saw a bird mostly black the size of a crow on a tree.

Even though the pileated woodpecker is a year round resident in CT, most woodpeckers don't start becoming more verbal til spring gets closer and warmer temps start arriving.

Next sound of spring I'll be listening for at the TMA will be the eastern phoebe. Also keep an eye out for yellow warblers and green herons.
Michael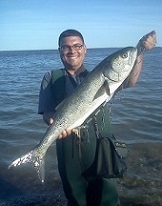 Joined: 28 Jan 2012
Posts: 3823
Location: Bridgeport
Posted: Thu Mar 19, 2015 8:47 pm

Post subject: Blackbird & Grackles

---

Monday while I was at Mondo I heard a flock of common grackles in a tree and 1 or 2 red winged blackbirds. Black capped chickadees were also being very noisy.

When chickadees start becoming very noisy on the edge of wetlands, that's another good sign of spring and warmer weather.

When I went to Mondo Thursday 3/12 I didn't hear any blackbirds or grackles.