Zaxx



Joined: 15 Jul 2015
Posts: 16
Location: Tolland County
Posted: Tue Jul 28, 2015 11:39 am

Post subject: Fishing the CT River from the East Hartford Area

---

Does anyone know of any good spots? I always have my pole and small selection of tackle on me in my car and I'm going to be in the area for a band practice. I will be right near Goodwin College (Exit 5 off of Route 2). I would love to be able to get some casts in but don't know of any places nearby that might be fruitful/allow me to fish.

Any suggestions would be appreciated!
DV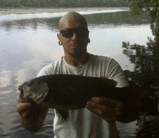 Joined: 05 May 2010
Posts: 229
Location: East Windsor
Posted: Tue Jul 28, 2015 11:38 pm

Post subject:

---

check your pms, i sent you my number. ill be out that way on Wednesday and know of a few good spots