PECo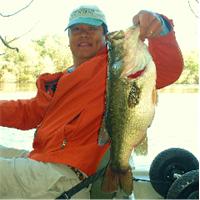 Joined: 06 Oct 2009
Posts: 5203
Location: Avon, CT
Posted: Wed Mar 11, 2015 10:03 pm

Post subject: Gulf of Mexico - Naples, FL 03/08

---

Six years ago, I took my wife and kids on a Naples Sampler charter with Captain Mike Bailey on his boat, Ms. B Haven, out of Naples Bay in Naples, Florida. His website is http://www.fishinnaples.com. The Naples Sampler combined a tour of Naples from the bay with dolphin and eagle spotting, beach combing on Keewaydin Island and fishing in the bay. Now that my kids are grown up, I decided to take my 17 year old daughter out for some offshore fishing in the Gulf of Mexico and gave Captain Mike a call. He said he's getting a little too old for a full day eight hour offshore charter, so he hooked us up with Captain Hunter Robertson on his boat, Fish Hunter. We met Captain Hunter and mate Henry on the boat before dawn, and quickly left the dock. We idled through the bay by the light of the full moon:



I told Captain Hunter that I wanted to see my daughter winch up a Goliath grouper and he said he knew just the spot. The weather forecast called for some fairly brisk wind, so he decided to hit "the spot" early, in case we had to cut our trip short. We first made a quick stop for some bait. Here's mate Henry and Captain Hunter searching for a school:



Did I mention that the stop was quick? Quick AND easy:




Pilchards:



We headed to a sunken shrimp boat that's home to some Goliath groupers and arrived just after sunrise:



It didn't take long for my daughter to hook up with the first fish:



Unfortunately, she lost it to the buoy line of a stone crab pot, which were seemingly everywhere. But she didn't lose the second, which was a 30 pounder:



We didn't even try to boat the third, which was pushing 100 pounds:




I told Captain Hunter that we'd like to search for a greater variety of fish after I set the hook on and boated a "little" 20 pounder of my own:



Incidentally, those Goliath grouper were caught on heavy tackle spooled with 300 pound test monofilament fishing line, not the lighter setup on which my daughter lost the first fish. Captain Hunter took us to a couple of productive spots, the first of which died completely after a pod of dolphins showed up. We jigged up fish with live shrimp, both in chunks and whole, and the live pilchards. In addition to the Goliath grouper, we caught red grouper, gag grouper, white grunt, blue runner, porgy, sheepshead, lane snapper and, most of all, mangrove snapper. As the outgoing wind rose to 20 miles per hour and the tide began to flow in, the swells rose to four feet and we cut our trip short, down to six hours. The ride back to the dock was rough! But you only need one kidney, right? We ended up with a nice bucketful of fish that Captain Hunter and another boat's captain filleted for us at the dock:




If you're looking for a fishing charter out of Naples, Florida, I highly recommend Captain Mike Bailey and Captain Hunter Robertson. Both will give you an enjoyable and memorable charter.
_________________
Don't forget to wear sunscreen and don't litter!