Michael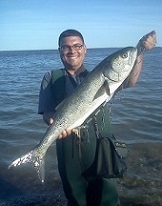 Joined: 28 Jan 2012
Posts: 3823
Location: Bridgeport
Posted: Wed Sep 05, 2012 8:30 pm

Post subject: Hatch Report

---

Hi fly fishermen. I have a report for you.

Wednesday while I was at Bunnells Pond, sunnies were going crazy on the surface all over the place for a newly hatched insect. I saw them landing on me and they seemed to be some sort of gnat. Black body with clear glass white wings.

Have the right fly ready to match the hatch!