Drewski1001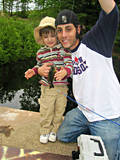 Joined: 17 May 2012
Posts: 2
Location: Derby, CT
Posted: Thu May 17, 2012 2:37 pm

Post subject: Heading to Bantam Lake..again

---

This upcoming weekend, probaly Saturday, my 5yr old son, fiance and I will be heading to Bantam Lake once again with hopes of hookin a pike. No boat, kayak, canoe here so we will be shore fishing as usual. This will be our 3rd time heading to the lake. Our first trip my fiance and I both caught a beautiful brown trout. Or was it a brookie? I'll have to double check with my fiance when he comes home from work. (I actually made this account for him) The rest of our first trip that day was uneventful. The second trip to Bantam, we spent almost the whole day fishing along a weed bed in hopes of catching a spawning pike and although we had quite a few bites and a huge pike jumped outta the water right behind my luer, no luck. As the sun was setting we decided to try our luck elsewhere and came upon a spot which was right underneath a bridge off a main road, where Andrew, my fiance caught a decent sized bass. After doing some research about this place, we've decided to give it another go. This time we will try pike fishing in the North bay. Has anyone else had some luck catching pike here?

Also, does anyone have any idea on where a good spot might be for shore fishing for pike, perhaps somewhere along the North Bay?