PECo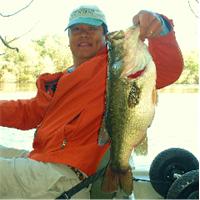 Joined: 06 Oct 2009
Posts: 5203
Location: Avon, CT
Posted: Tue May 01, 2018 8:57 am

Post subject: Housatonic River - Sunnyside 04/30

---

My buddy Glenn and I fished the lower Housatonic River on Monday. Glenn had heard some reports about early morning topwater striped bass action, so he wanted to meet at the ramp at 5:30 am. The emotional side of brain said, "NOOOO!!!!", but the logical part said, "Why not?", so we met on the ramp at the Sunnyside Boat Launch Facility in Shelton and launched in my bass boat at 5:40 am. The weather forecast looked favorable for topwater fishing:



However, the tides did not, with slack low hitting right after we launched, especially since we ended up fishing well downriver (where the tides hit much earlier) from the gauge in Shelton on which the table I use is based:



Glenn and I both stuck with topwater lures all day, mostly nine-inch, tandem-rigged, Albino Shad, Lunker City Slug-Gos, although we also threw a few casts with Squid Slug-Gos, silver Daiwa Salt Pro Minnows, a chartreuse Bomber and a white, soft plastic lure that Glenn told me is called an Albie Snack. Other than a few fish caught with the SP Minnows and the Bomber, we caught our fish with the Slug-Gos. I caught my first topwater striper of the year at 6:00 am:



We doubled up with 28 and 29 inch keepers at 7:40 am:



Mine was the bigger one. Here's Glenn with his:



But Glenn got the last laugh an hour later, when he boated this 34-incher:



A few hours later, I boated my second keeper, a 30-incher, out in the middle of the river. The fish swiped at the Squid Slug-Go twice, before it finally caught a hook on its third try:



Here's the useful part of this report:

I never noticed a surface water temperature higher than 51 degrees.

The bite was much better when there was more current. Duh! I wish that we had been able to enjoy more of the outgoing tide than we did that day.

The vast majority of the fish we caught were those we marked on the bottom of the channel edges in eight to 12 feet of water. We'd throw our lures up shallow and retrieve them over the drop.

My most effective retrieve was fairly fast, but with pregnant pauses thrown in. The fish would hit the lure on the pause.

However, I had many, many more turn-aways and lookie-lous than hookups. The fish would flash up underneath the lure when it paused and fail to commit at the last moment. I was fishing straight green 20-pound Power Pro Slick 8 braided line and should have had tried tying on a fluorocarbon leader, but I was hooking up often enough and too lazy to do it.

Glenn and I weren't counting our fish, but we caught at least four dozen, including the four keepers. The next time we go, I'll plan our launch time around the tide, instead of the sunrise. I really, really hate getting up at Stupid O'Clock in the morning.
_________________
Don't forget to wear sunscreen and don't litter!