Michael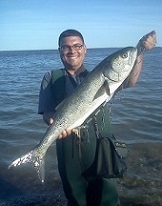 Joined: 28 Jan 2012
Posts: 3823
Location: Bridgeport
Posted: Mon May 23, 2016 10:03 pm

Post subject: IBSP Blues

---

Friday afternoon my dad and I arrived at the Island Beach Motor Lodge. Later I rode my bike all the way down to the dead end of the street before locking it and then walking all the way to the jetty. Had my waders on along with my 9' Star Rods Stellar, Conflict 2500, 14lb Berkley Trilene Professional Grade Braid, and a few topwaters.

As I cast from the open surf with a wind-cheating 1 1/2oz bottle neck, 2 surfcasters were getting out far enough with 3oz Cotton Cordells, which was making them hook up often. I didn't get into any fish.

Saturday was when my dad and I did some spot hopping. It was rainy that day with mostly light rain, except for a few steady rains. 1 spot had large waves crashing ashore, which was where I landed an 11 pound gator with that bottle neck. Another spot we went to was where I got better action and a few others were easily hooking up. I casted with a 2oz Hopkins imitator and landed 3 blues ranging from 8 to 10 pounds. Had many hits and lost 1. That spot was where there was more sandbars and waves were the smaller and softer ones that come in more often. Once my dad and I got to our final stop was when we called it a day.

Headed back home around noon Sunday

A tip I have to anyone who plans on hitting blues at IBSP is if you're gonna fish the open ocean side, it's best you fish it on the last of the outgoing and beginning of the incoming. That's when waves aren't as rough and blues are more active.