PECo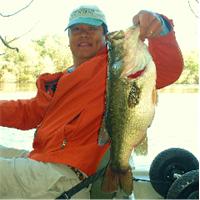 Joined: 06 Oct 2009
Posts: 5201
Location: Avon, CT
Posted: Thu Jun 21, 2018 3:13 pm

Post subject: iRod Rod Warranty Service

---

I recently broke my favorite wacky-rigging rod, which is an iRod IRG712S spinning rod. iRod describes it as:

Fred's Power Finesse
is the perfect finesse rod.It has a soft tip to allow for casting light baits and
detection of subtle

Length: 7'1″
Lure weight:1/8 – 3/8
Line weight: 6-12lb
Power:Med.
Action: Fast

I broke the rod when I tried to unsnag a Senko from a shoreline shrub by jerking the rod back. I hit the trolling motor and snapped the rod in two.

Here's the warranty card that came with the rod:



However, iRod's website states the warranty slightly differently:



Because I broke the rod accidentally, I followed this part of the warranty:

Please return the 2" section of the rod with the model number on it. Include
$50 for the warranty fee and $20 for return shipping payable to IRod.
(International customers will be charged actual shipping and insurance costs,
and will be responsible for all related customs and duty charges.) Please be
sure to include your name, address, email, daytime phone number including
area code)

Warranty turnaround time, given in stock is 1-2 business days.

I sent in the section of the rod with a check for $70 ($50 warranty fee + $20 return shipping) on June 6. The worker at the post office said I had to send it as a package, rather than a letter, and I sent it the cheapest way possible, which cost me $3.50. iRod cashed my check on June 13. I received the new rod in an eight foot tube on June 20.

I think the warranty turnaround was a bit slow, but I have no complaints, really. I have a new wacky rigging rod!
_________________
Don't forget to wear sunscreen and don't litter!