Michael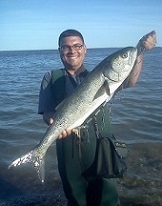 Joined: 28 Jan 2012
Posts: 3823
Location: Bridgeport
Posted: Wed Jul 27, 2016 12:25 am

Post subject: It's Been Slow

---

Have been hitting Seaside since my last post. Also hit the Charles Island sandbar one evening with my dad.

Water temps have been ranging from 73 to 76 and the storms have had an impact on the saltwater.

One day at Seaside was when small blues no bigger than 2 pounds were active out at the lighthouse. After that day, not much bluefish action has been happening, mostly due to the storms that have been hitting the area. Otherwise, searobins are the ones more willing to hit a small swimmer, while the small blues only want a spoon.

My dad and I were disappointed with how slow it was when we hit the evening incoming at Charles Island sandbar one day. No blues were caught by anybody. Searobins were being caught on swimmers and spoons, and also saw somebody land a fluke.

It's looking like western LIS is in that time of year when water temps and thunderstorms are affecting the blues. This is when early morning is the best time to hit the water before sun gets high and strong.