Michael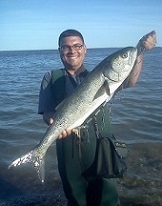 Joined: 28 Jan 2012
Posts: 3823
Location: Bridgeport
Posted: Wed Nov 11, 2015 9:59 pm

Post subject: Keep an Eye Out for Them

---

Now that we're in November, we have a wintering visitor to certain bodies of water. Habitats include smaller lakes (Mondo & Seymour Res) and rivers (Farmington & Mill) and moderate bays and coves, such as Pond Brook.

Hooded mergansers are ducks that dive for food, including small fish, frogs, lizards, crayfish, and aquatic insects. They prefer a woodland environment. Whenever you find them in a flock diving underwater very often in 1 certain area, then that means there's bait hanging out there and would be a great spot to throw a soft plastic, jig, or suspending jerkbait.

Last year in November and December at Mondo Pond, I'd throwing a HJ-6 in the area they were diving and end up getting into a school of yellows. I bring a few yellows home to find their bellies full of small 2" sunfish.