PECo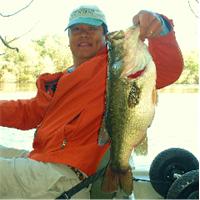 Joined: 06 Oct 2009
Posts: 5023
Location: Avon, CT
Posted: Mon Feb 13, 2012 5:11 pm

Post subject: Lake X 02/13

---

I hiked in and fished Lake X from 11:30 am to 1:45 pm. Although the edges in the shade of the east shore were solid and thick, the ice was only 3-1/2 inches thick 50 feet from the shore. Despite full sun, the water was clear down to only six feet. There was a decent wind that seemed to change direction every half hour. I didn't set any traps. I jigged with four different jigs in 20 to 22 feet of water and caught a fish with each one. I ended up with two seven inch sunnies and two largemouth bass, the biggest of which was 11 inches long:





The full sun was really hurting the ice. When I would put my metal scooper down, it would melt into the surface. I don't think that the ice will last for much longer.
_________________
Don't forget to wear sunscreen and don't litter!
Elixir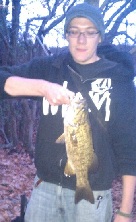 Joined: 30 May 2011
Posts: 288
Location: Danbury, CT
Posted: Mon Feb 13, 2012 7:01 pm

Post subject:

---

Nice report, nice bass. Stinks bout the ice though. Looks like you like the spot.