RobO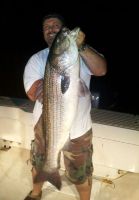 Joined: 24 May 2010
Posts: 285
Location: South Windsor
Posted: Wed Jun 21, 2017 9:12 am

Post subject: Lucky Hook Charter Trip

---

Fishing report for 6-17-17

Date: June 17, 2017
Location: Clinton CT - Lucky Hook Boat
Area: LIS
Friends: Chartered the boat for MH co-workers
Gear: My Custom Rods, Accurate Valiant 300 and Maxell Hybrid reels
Bait: Squid, Spearing
Fish: Black Sea Bass, Fluke, Sea Robins
C&R: Nope. The boat limited out with 48 sea bass and 1 fluke
Notes: Great time, very foggy, overcast with some showers

I chartered a boat for our second annual Middlesex Hospital coworkers fishing trip.

I convinced everyone this year to spend a little more and charter the Lucky Hook boat out of Clinton CT.

Everyone was glad that we choose that boat as it is very roomy and it was great just having us on the boat with our own mate. We had a cooler full of adult drinks and a cooler full of food (pepperoni, cheese and crackers, cold pizza, PB&Js, tuna and chicken salad sandwiches, vegetables, and beef jerky and cookies).

One of the ladies joining us had never caught a fish in her life. Our goal was to change that.

The weather was overcast and Long Island Sound had very thick fog. We got on the boat at 1pm for our 5 hour trip. Once we got to the area we were going to fish we dropped our lines down and within the first 10 minutes we had our first fish in the boat. For the next 3 hours it was pretty consistent catching for us. The boat only had to take two long drifts (approx. 2 miles each) and we had filled the live well with our limit of 48 black sea bass. We caught about 10 very large porgies. We also caught a few small sea robins too. Most of the BSB we caught were all over keeper size of 15 inches with very few shorts. I would say the average fish was 17 inches and we have a few that were over 20 inches.
We had about an hour to go on the tip so we switch our rigs over to try and put some fluke in the boat. I caught the one and only fluke for the trip which ended up being my personal best at 24.5 inches. This fish won me the fishing pool and $60 went into my wallet.

The fishing newbie had a blast and she ended up catching 5 or 6 fish. We made her kiss her first fish.

It was a great time fishing and Captain Mike and the mate Rob were fantastic. The boat is huge and clean and it is huge for 6 people.

I tried to add and image or two but cant seem to do it. Someone please explain how to again. Thanks.