Michael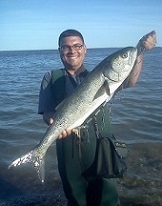 Joined: 28 Jan 2012
Posts: 3823
Location: Bridgeport
Posted: Fri Aug 14, 2015 10:20 pm

Post subject: New Moon vs Full Moon

---

Moons control our tides and some of our weather. New moon and full moon are the ones that can make tides and conditions much different than other moon phases, and can make surf casting interesting.

All my years of surf casting, I have found the full moon to be the best of the 2. I love how low and how high the tides get. Conditions are perfect. I'm more bound to land and hook into fish than the new moon.

I've always heard from the more serious guys that the new moon is better. But what I don't like about the new moon are the rough conditions and tides not as high and low as full moon. Another thing is, as I said about the full moon, I'm always been to have better luck hooking into a fish and getting hits and explosions with the full moon than new moon.

Who here prefers which moon phase and has had more luck (quantity vs quality) on which moon phase?