Michael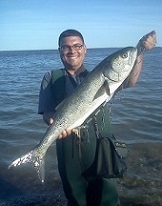 Joined: 28 Jan 2012
Posts: 3823
Location: Bridgeport
Posted: Thu May 12, 2016 9:23 pm

Post subject: Nice Evening Bite

---

After no luck at Bunnell's Pond on Thursday, I hit the Pequonnock at the Wonderland of Ice, arriving around 7:30. Lure I stuck with was a Gold HJ-6.

First stop caught me 2 dinky crappie, 1 dinky bass, and 1 dinky redbreast.

Next stop caught me a cookie cutter and a chunky 8" rock bass.

Then I hit the lower tidal section at Glenwood Park. That's where I got into white perch, totaling 6. All were under tidal keeper size. Also caught 3 dinky bass, an 8" yellow, a chunky 9" rock bass, and last cast produced a chunky 10.5" crappie.

Called it a night just after 8:30.

Fish weren't interested in any stop and go or erratic twitching. It was all steady retrieve.