Justin Tralli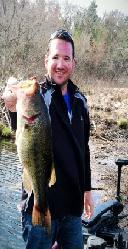 Joined: 05 May 2007
Posts: 656
Location: Glastonbury, CT
Posted: Thu May 30, 2013 11:38 pm

Post subject: Open Tournament CT River June 2nd!!! Salmon

---

Because the TBF cancelled their event out of Hartford, some of the guys decided to have an open out of the Salmon Launch on Sunday June 2nd! A permit was just acquired today from the DEP. The water will be back down to 8 or 9 feet by then so the launch will be just fine. So here are the details:

Sunday June 2nd
Salmon River Launch
100% Payback!!!!
Team Tournament
$150 per Team plus $10 lunker
7am-4pm (extra hour for no wake zones)
Be there no later than 6:30 for registration and livewell checks!
MUST HAVE VALID PROOF OF INSURANCE!!!

Starts at 7AM SHARP!!

Call 860-734-6278 with any questions!
_________________

CT RIVER
Every Tuesday Night @ 5 p.m.
EAST HARTFORD LAUNCH
$10 Per Person
Winner Take All!