Michael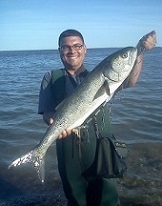 Joined: 28 Jan 2012
Posts: 3823
Location: Bridgeport
Posted: Sat Aug 01, 2015 12:20 am

Post subject: Private Lake 7/31

---

A buddy and I hit the private lake I reported about a week ago. He had an extra kayak that he let me use.

I started off covering shady areas with structure. A soft plastic that had bluegills and cookie cutters going was a Texas rig hook rigged with 3 1" crayfish. I used it as a twitchbait imitating a real crayfish swimming, by giving it a light jerk every full second. Landed 4 bluegills and 5 cookie cutters. Biggest gill was a strong aggressive 8.5" bull and all bass were under a pound.

Later I covered quiet areas that had weeds and thick areas of those floating green seeds. That's where I stuck mostly with topwater. The 1 lure that had bass going was an albino white Snag Proof mouse. Technique was slow pencil popping to give it plenty of spitting on the surface. Landed a cookie cutter just over a pound and missed out on a number of other bass. Also had a few nice waves and swirls.

Once it started to get darker out I ended the evening by throwing spinners, but only had 2 hits.