RobO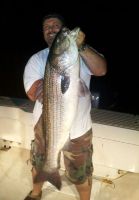 Joined: 24 May 2010
Posts: 228
Location: South Windsor
Posted: Wed Aug 25, 2010 11:32 am

Post subject:

---

Try this... It may help.

Adding an Avatar

What is an avatar? An avatar is a graphic or image that is displayed under your user name, at the left side of your posts.

The width can be no greater than 250 pixels, the height no greater than 250 pixels, and the file size no more than 20k.

To resize your avatar go here and choose the pixel size you would like
http://www.zimfamilycockers.com/ResizeImage.html
once you upload it to the site and click "resize picture now" it will bring you to your avatar to download.

Choosing an Avatar
1. Log-in to the message board
2. Click the my profile link under CTFishTalk logo
3. scroll to bottom section "Avatar control panel"
5. After choosing your avatar, click the Update Profile button at the bottom of the page.
_________________
I'd rather be fishing....