Michael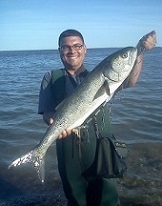 Joined: 28 Jan 2012
Posts: 3823
Location: Bridgeport
Posted: Sun Jun 28, 2015 8:49 pm

Post subject: Quicky & Beat the Skunk

---

Spent no more than an hour at Bunnell's Pond Sunday afternoon before being picked up by a buddy to hit the salt. Wind was mostly calm, skies were overcast, air was moist, temps were in the 60s, and there were lingering showers with a stalled front in the area.

I hit a few spots and stuck with topwater. Had 2 explosions on a floating 1/2 ounce buzzbait. Switched over to a smaller Tiny Torpedo and did a quick jerk and pause retrieve which resulted in losing 1, landing a 1 1/2 pound cookie cutter, and getting 1 other explosion.