Michael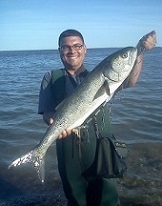 Joined: 28 Jan 2012
Posts: 3823
Location: Bridgeport
Posted: Thu Apr 14, 2016 8:12 pm

Post subject: Quiet

---

After a 4:50pm doctor appointment I arrived at Remington just after 6. Used the same rod, but tested a Tsunami Classic 4000 spinning reel rigged with Berkley Ironsilk poly mono 14 pound.

Winds were originally forecasted to be northeast, but they were a steady 8mph southerly.

This time there was hardly any action. I never got a single hit or swirl.

Only action I saw was 1 nice splash and a school of peanut bunker jump once.

Hit the road around 7:15.

Was very impressed with the Ironsilk line. Casts smoothly and fast and shows no signs of memory, such as twists and knots.