Redneckangler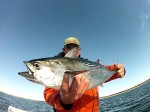 Joined: 05 May 2012
Posts: 851
Location: Meriden, CT
Posted: Sun Jul 06, 2014 8:30 pm

Post subject: River/Fly/Kayak etc. post.

---

Windy as hell today, so I went playing with my new yak on the river near my house. Danny's got a sit in already, so I bought a sit on top Emotion Stealth Angler 11. It's great for throwing in the back of the truck, and for small rivers, etc. Couldn't justify getting something like the Hobbie more geared towards salt, etc., as my skiff covers all of those bases anyway. Fished the trout management area, catching small browns, rainbows and brookies on my ultralight spinning and 2w fly rod. Throw in a few bass, crappie, perch and sunnies, and it was a pretty complete day.




_________________
RNA - It's in my blood.
www.redneckangler.com
Facebook @ TheRedneckangler
Weekly reports from around CT, the LIS and beyond.