BeersNBass



Joined: 23 Apr 2013
Posts: 80
Location: New Britain CT
Posted: Sat Jan 17, 2015 5:23 pm

Post subject: Silver lake Berlin

---

Got out this afternoon only for about 2.5 hrs. Lots of people out there but didn't have much or see much action. I had one flag but nothing landed. Solid 6+ inches of ice. First time out in ct this year so that was a plus
PECo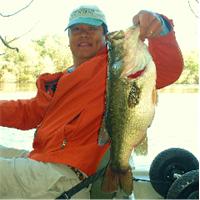 Joined: 06 Oct 2009
Posts: 5203
Location: Avon, CT
Posted: Sat Jan 17, 2015 9:37 pm

Post subject:

---

I fished a small pond in Avon with TurtleKiss (aka Kira), Dan1 (aka Dan) and JJay (aka Jason) from 9:00 am to 4:15 pm, today. We found six to 7-1/2 inches of mostly black but noisy ice. We got NOTHING jigging and two small largemouth bass out of eight flags on tip-ups baited with large shiners. The only fish I saw through the ice all day was a two foot carp that swam slowly under a hole in 2-1/2 feet of water. I tried to snag it with my Rapala Jigging Rap and had it for a fraction of a second, but it quickly swam away.




_________________
Don't forget to wear sunscreen and don't litter!