Michael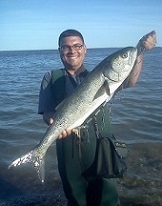 Joined: 28 Jan 2012
Posts: 3823
Location: Bridgeport
Posted: Mon Aug 22, 2016 5:55 pm

Post subject: Slower

---

Monday 8/22 I arrived at the rocks on Fayerweather around 3:45pm. Picked up a pair of waist high waders at Bass Pro Shops Sunday, so was able to get out farther this time. Respooled my Conflict 2500 with 14lb Fireline after getting a big tangle about 2 weeks ago. High tide for Black Rock was scheduled for 3:02 and the buoy had been staying steady at 78.1.

As I kept casting with numerous topwaters, I only got 2 explosions. 1 was on a custom wood 1.3oz yellow pencil and the other was on a custom wood 2oz silver blue bottle neck. Saw terns busy out by 2A and the red buoy by 2A.

As the afternoon went on, 2 familiar faces arrived. Tide was going out and sunset was getting closer, so we were hoping for a good bite.

I only got 3 more explosions which came on the same lures. The 2 other guys were getting into the strike zone at a certain angle, with made both of them land 2 tailors and get a few explosions.

Once it was time for police to close the gates, the other guys left and I went to see what the smaller blues were doing. Kept throwing a Bone Heddon Spook Jr with a large treble on the rear only. Pretty soon had my limit. Other than steady walk the dog, the blues would even hit the lure if I steadily retrieved it on the surface with an occasional twitch.

Hit the road when there was hardly any light over the horizon.

Blues I was catching this time ranged from 2 to 3 pounds with hardly anything smaller. Out by the rocks it was slower for all of us vs Thursday and recent days the others have been there.