snafu



Joined: 17 May 2007
Posts: 50
Location: Griswold & Niantic
Posted: Fri Sep 07, 2007 7:50 am

Post subject: SNAFU 9/6 South of Block Island

---

Headed out from Niantic with Joe, Pops and John for a day of BFT trolling and sharking.

Needless to say we took a 2 hour pounding running into close 3-4' seas with an occasional 5' throw in for good measure.
Put out a cedar plug spread 2 miles NW of the Grecian Wreck due to a .5 degree temp spike and set a course for Tuna Ridge. 10 minutes into the troll had a tuna come up and take a swipe at a plug just behind the whitewash, missed, then came back and hooked up on the adjacent plug. John brought in a 34" BFT, bled, gutted and put on ice. Now we can relax as the skunk is off, trolled for over 2 hours with no action except for clearing weeds off the hooks.

Set up for sharks at Tuna Ridge and had a nice drift thru the Gully to the bottom edge of the Mudhole. Several draggers working the area, at one point we had a thick band of squid on the ff.
Joe reeled in a dogfish just before we pulled up to call it a day.

Made decent time coming in with wind and waves at our backs, boat was surfing most of the way.
Bass Addict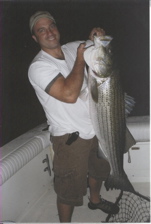 Joined: 27 Aug 2007
Posts: 1214
Location: Wethersfield, CT 06109
Posted: Fri Sep 07, 2007 1:35 pm

Post subject:

---

3-4 is no kinda of fun. At least you caught BFT to make it worth your while.
_________________
Sorry honey, looks like we will be late again due to motor problems.

Justin