PECo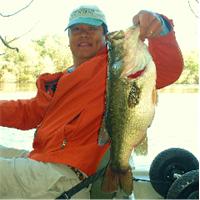 Joined: 06 Oct 2009
Posts: 5201
Location: Avon, CT
Posted: Mon Jun 05, 2017 7:49 pm

Post subject: Spring Pond 06/05

---

I'm going to be out of town for a while, so I had to go fishing one more time before I left. I figured that I'd paddle my local pond for just a little while, but things didn't quite work out that way. When I launched my kayak at 10:15 am, the sky was totally overcast and there was a light north breeze. The air temperature was in the low 60s. Despite the glare on the water, I could see that the water was clear down at least a couple of feet. The water temperature was 67 degrees in the south bay when I launched, but hit 68 degrees on the north bay later in the day.

Although my intention was to eventually throw a Zoom Horny Toad over the shallow spawning flat in the northwest corner of the pond, as usual, I started by throwing a wacky-rigged Green Pumpkin/Red Flake five-inch Senko. I got a bite on only my second or third cast and boated a small keeper largemouth bass that weighed one pound, 13 ounces:



During the first hour, I boated six keepers ranging from one pound, six ounces, to one pound, 13 ounces. The fish weren't tight to shore or cover. Like yesterday, when I fished Congamond, they appeared to be roaming around the outside weedline. My guess is that the largemouth bass are still in pre-spawn mode and will probably be on beds soon.

At the end of the first hour, I had to cut off a good chunk of my newly spooled fluorocarbon line, due to a snag caused by line twist. One day, I'll have to learn how to cast without helicoptering my lures so much.

I paddled up the east shore to the northeast corner and across the north shore toward the northwest corner. By the time I got there, I had caught a total of nine largemouth bass keepers, but still up to only one pound, 13 ounces. As planned, I switched to a Bullfrog Zoom Horny Toad and soon got a good bite. I paused for a couple of seconds, reeled in the slack and set the hook HARD. I could tell that the fish was over two pounds by how hard it pulled. It swam under the front of my kayak and banged against it. As it headed back behind me, the Horny Toad popped out of its mouth! NOOOO! I couldn't believe it! When I took a close look at the Horny Toad, I saw that the hook was still buried in the plastic. Arghhh!!!!

I tossed the Horny Toad for only a few more minutes, before switching back to the Senko and heading for deeper water. As I paddled around the north island, I caught a sunny before setting the hook on a better fish. A MUCH better fish! I finally broke the two pound mark with a four pound, 11 ouncer:





In the end, my short paddle took 5-1/4 hours. I caught 14 largemouth bass, of which 13 were keepers, although only two were over two pounds. In addition to the four pounder, I caught one that was two pounds, seven ounces. My five fish bag would have been about 12 pounds, nine ounces. Now, I wish that I didn't have to go out of town.
_________________
Don't forget to wear sunscreen and don't litter!