PECo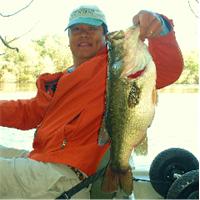 Joined: 06 Oct 2009
Posts: 5201
Location: Avon, CT
Posted: Mon Nov 06, 2017 7:38 am

Post subject: Spring Pond 11/05

---

I took my kayak down to Spring Pond and fished from 10:15 am to 12:30 pm. The air temperature ranged from the upper 40s to 50 and what little wind there was blew down from the northeast. The sky was totally overcast and an occasional light mist fell. The surface water temperature was 56 degrees. I didn't see any movement in the water, which was stained, but fairly clear and now largely devoid of weeds.

I tried throwing a white Cavitron buzzbait for a short while, but got nothing with it. I swapped it out for a white spinnerbait, but it kept fouling up when I cast, so it didn't see much action, either. I ended up banging around the shore with a wacky-rigged green pumpkin/red flake Senko.

It took a while, but I finally got a light bite on the Senko from a yellow perch. About an hour after I launched, the Senko got picked up off the bottom by a short largemouth bass in the northeast corner:



As nice as it was to boat a bass, it wasn't very satisfying. I never felt the bite or even saw my line move. Quite frankly, I thought it was a weed until I got it close to the boat.

I continued to work my way around the pond and came up on a piece of wood sticking out of the water at the edge of the flats in the northwest corner. Again, my Senko got picked up off the bottom, but, this time, the little keeper largemouth actually put up a tiny bit of a struggle:



It was a little beat up, with a torn up lip and a sore on its left gill plate. Its lip looked fully healed and functional, though. It's a survivor.

That's all the action I got, although I really enjoyed a very peaceful paddle in the mist. It was definitely a lot more satisfying than my last trip down to the mouth of the Connecticut River, when I got skunked. Catching is better than not catching, I guess.
_________________
Don't forget to wear sunscreen and don't litter!