RLoutdoors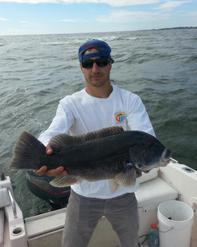 Joined: 12 Aug 2013
Posts: 74
Location: Stamford, CT
Posted: Thu Jul 03, 2014 12:12 pm

Post subject: Summer Tog?

---

Who out there makes a solid effort to get after blackfish during the summer season?

Toggin is by far my favorite fishing the sound has to offer. With their finnicky behavior, brutal fight, and delicious white meat, what's there not to love? I can usually do pretty well in the fall/winter season, but I've never had much success getting a good bite in the summer.

Anyone have any tips or suggestions for the July/August bite? Are they at deeper reefs? Do they change their eating habits? Anything helps.