Michael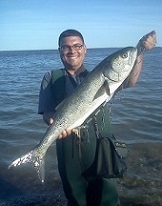 Joined: 28 Jan 2012
Posts: 3823
Location: Bridgeport
Posted: Mon Aug 08, 2016 7:02 pm

Post subject: THEY WERE BUSTING!!!!!!

---

Monday afternoon I arrived at the Black Rock lighthouse around 3:30. High tide was scheduled for 4pm and low 10:40. Local buoy had been staying steady at 76.1 with a few readings of 76.3 and 75.9. Winds were a steady 8mph southeast before becoming southwest and then west. Skies were mostly cloudy before becoming mostly sunny.

Not much was happening until tide got lower. I landed a blue around 1.5 pounds with a 2oz Hopkins.

After landing that blue, nothing else was happening so I took it easy. As tide got lower, terns started getting very active out by 2A and other buoys. I'd see some nice splashes with a few bursts of bait. As I kept an eye on them and it was about 6:30, blues started getting active within range. Other fishermen weren't doing as well as me due to me getting out far with the 2oz Hopkins, 14lb Trilene braid, and 8' Penn Battalion. Others were using heavier line and lighter spoons, while 1 other was using topwater.

As the evening went on and I landed a number of blues up to 2 pounds, all hell broke loose as the sun was about to hit the horizon. Small blues and chunky schoolies got very thick and started busting bunker of all sizes like crazy. As I stuck with the 2oz Hopkins, I had tons of hits, lost a number of fish, and landed a total of 12 blues up to 2.5 pounds and a chunky 16" headshaking schoolie.

Once I had my limit of blues and there wasn't much light remaining, I left the fish still feeding.

Bait the blues were spitting up were freshly destroyed bunker from small fry to 3" and small silversides no bigger than 1.5".

After the action I saw, I'm already thinking the fall run will be starting earlier than last year and we will be in for another amazing run.