Michael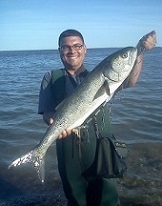 Joined: 28 Jan 2012
Posts: 3823
Location: Bridgeport
Posted: Wed May 04, 2016 10:13 pm

Post subject: This Weather is Ruinning the Bite

---

Monday and Tuesday I hit Seaside again. Water temp has dropped due to this November and December-like weather.

Monday I got an early start and used my 8' Star Rods Aerial to throw some heavier lures. As I waded at Remington on the outgoing tide, I had 2 swirls with the Gold XRW-13 and had a striper carefully pop its head up out of the water for a custom wood 1 ounce bottle neck. Retrieve with the bottle neck varied, from steady popping to 2 or 3 jerks before pausing for up to 5 seconds.

Later in the day on Monday was when gulls got very active along the shoreline, from Breezy Point to the volleyball net. I tried throwing topwater but niente. I tried throwing a Silver FLR-16 and Chrome Purple MXR-15 but no hits. Switched over to a 2 ounce Hopkins imitator, which landed me 2 schoolies and had 3 hits.

Tuesday was when I took it easy as I hit a few spots and sat down keeping an eye on the water and birds. Seeing the stripers aren't into topwater and they've been feeding on 2 to 4 inch shiners and sand eels, rod was 7'6" F&S Inferno and lures were smaller swimmers. Never got into anything anywhere, until tide got higher at Breezy Point, which was when the gulls turned on and caught 3 small schoolies and had 4 hits on the Purpledescence FLR-10.

Water temps have dropped below 52 and air has been moist and cool, making the bite slow down.

Friday is when I don't have to work again, but due to tides and forecast, it's gonna be freshwater, even though moon will be 1%.