Michael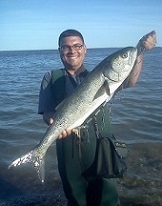 Joined: 28 Jan 2012
Posts: 3823
Location: Bridgeport
Posted: Sun Apr 24, 2016 10:26 pm

Post subject: Topwater @ Twin Brooks

---

After fishing the Pequonnock, I hit the ponds at Twin Brooks.

Started by throwing the Gold HJ-6 in a few areas and landed 2 bluegills.

Later I get to a certain spot that had me thinking topwater. Threw a G-Finish Shad Baby Torpedo. Retrieve was quick jerk and pause. Landed 4 cookie cutters and had a number of blow ups, with some being nicer 2 to 3 pound bass.

Hit a number of other topwater spots with the Baby Torpedo. 1 spot was where I got into another good bite, landing 3 cookie cutters.

Once I covered plenty of water and it was getting closer to 7pm, I went to the funeral home, which was where I landed 2 cookie cutters and 2 dinky yellows on the Gold HJ-6.

Hit the road just before 7:30

On the way home I got stuck on White Plains Rd due to fire crews having an area on lock down. Blessed Lambs Pre School burnt.