Michael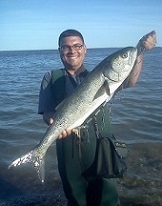 Joined: 28 Jan 2012
Posts: 3823
Location: Bridgeport
Posted: Sun May 10, 2015 10:41 pm

Post subject: Twin Brooks 5/10

---

After hitting parts of the Pequonnock, I arrived at Twin Brooks around 1.

I started off where I caught the crappie and cookie cutter last time. Threw many lures, including topwater, but niente.

Kept working areas of each pond with many different lures. Occasionally I'd have a yellow follow a pear grey shiner FLR-6 at the main pond but didn't catch anything there either.

Beat the skunk with a nesting cookie cutter measuring 13" weighing just over a pound. Landed it with a Mister Twister Twistermite rigged on the 1/8 ounce jighead that comes with the soft plastics.

I had a few swipes by either crappie or cookie cutters as I worked a few HJ-6 along the shore of the larger pond where there was depth and structure. Only other thing was a trout followed a silver shad JSR-4 3 times in the same area. Couldn't fish the point on the far side of the larger pond due to a female goose nesting there with the male standing guard nearby.

Once it was getting close to 6, I headed over to the funeral home. Found a few bass nesting. The lure that was really annoying them was a 5" Sluggo. Had it double rigged and landed 3 cookie cutters all just over a pound.

After catching those nesting bass, I switched over to a Strike King Lightning Shad to play with the bluegills. Total was 3 cookie cutters under a pound, 1 monster seed, and 3 bluegills.

Hit the road just after 8.