Michael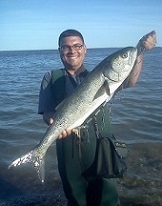 Joined: 28 Jan 2012
Posts: 3823
Location: Bridgeport
Posted: Thu May 12, 2016 9:15 pm

Post subject: Twin Brooks 5/12

---

After a doctor appointment on Hawley Lane, I arrived at Twin brooks just after 3pm. Word was bass were starting to nest and topwater has turned on.

As I covered water, I saw a few bass beds, with some having the male and female and others having just the male guarding it. One bed caught me a 15.5" 1 pound 13 ounce largemouth on a pumpkin green chatterbait jig. Missed out on a nice bass with the same lure on another bed. Other bass beds I hit had finicky and scared fish.

Topwater bite was on. 2 lures I played with were a Heddon Pop'n Image and a Baby Torpedo. Total was 5 bass up to the same size as the nesting bass and 4 pickerel up to 16". All pickerel were slender.

Hit the road just before 6:45 to grab a quick bite to eat before hitting Bunnell's Pond, where I had no luck.