avidangler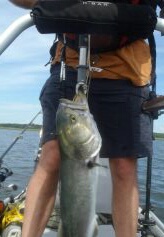 Joined: 08 Jan 2013
Posts: 469
Location: Forestville
Posted: Tue Oct 15, 2013 7:42 pm

Post subject: Naugie/Campville 10/15

---

Went to the campville section from 3:45-6:45

hooked 1.....2-3 lber that jumped and spit the hook almost right away.
Then hooked a 2 nd 5-6 lber that ran up river jumping all over the place and went under a fallen tree which snapped my leader....But not before it took me to 20 feet or so of line left....100 feet of fly line and about 180 feet of backing..i was "spooled".....They both hit large nymph flies.
_________________
...Randy...

Leeway and elbow room.There's plenty of water to fish!


avidanglingadventures.blogspot.com



"If we concentrated on the really important stuff in life,there'd be a shortage of fishing poles."