avidangler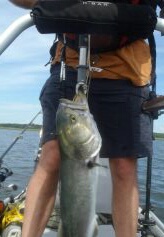 Joined: 08 Jan 2013
Posts: 469
Location: Forestville
Posted: Thu Aug 08, 2013 7:18 pm

Post subject: Pequabuck river

---

Spent an hour at the Pequabuck on Wednesday right by my house and ended up with only a couple of super tiny chubs and a small 9-10 inch brown.Gonna have to keep the chubs next time when i plan to go bass fishing.
_________________
...Randy...

Leeway and elbow room.There's plenty of water to fish!


avidanglingadventures.blogspot.com



"If we concentrated on the really important stuff in life,there'd be a shortage of fishing poles."