androux



Joined: 18 Dec 2012
Posts: 63

Posted: Thu Jan 02, 2014 7:12 pm

Post subject: New year's Day on Highland

---

Started the season on Highland, fished second bay, the very blackest ice was a stretch to say 4", but anywhere it was milky white was 5-6". Got out about noon, long stretch with no action, and about 3pm, our group of four had about 10 flags in about 45 mins, all big picks and undersized browns. Got ready for the evening bite, hoping for perch, but nothing. Pulled up gear at dark as the temp dropped.

Super cold temps and blowing snow will definitely add some ice. Hopin' to get out Sunday, would like to hit Hogsback if it's locked, gotta think that the snow won't stay around to insulate it, and -9 will prolly build an inch or two.
_________________
"Fish now, answer questions later."
Elixir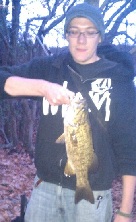 Joined: 30 May 2011
Posts: 288
Location: Danbury, CT
Posted: Thu Jan 02, 2014 7:59 pm

Post subject:

---

Nice report and 10 flags in 45 minutes! thats alot of people moving lol!

With the wind the ice should be clean on top and build at the same time!
_________________
"Au... Ger...! You know me. Chillin on the ice with my jigga's!"