Justin Tralli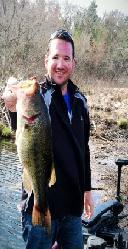 Joined: 05 May 2007
Posts: 656
Location: Glastonbury, CT
Posted: Tue May 06, 2014 6:47 am

Post subject: TUESDAY NIGHT BIG BASS STARTS TONIGHT!

---

Our weekly Tuesday Night Big Bass out of East Hartford STARTS TONIGHT! The TNT on the Connecticut River starts tonight at 5PM out of the East Hartford "Great River Park" launch! The launch is located right off of Route 2 on East River Drive. 

Please be there by 4:30PM for livewell checks, registration and the first tournament meeting! 

$10 Per Person 
$5 Optional Second Place Pot 
100% Payback 
WINNER TAKE ALL! 

We change bag limits every week at random! Some nights its biggest fish, some nights it's 3 fish, some nights its 5! 

Open to everyone! Must have a boat with working livewells and liability insurance! 

Any questions please call me at 860-734-6278!
_________________

CT RIVER
Every Tuesday Night @ 5 p.m.
EAST HARTFORD LAUNCH
$10 Per Person
Winner Take All!