Michael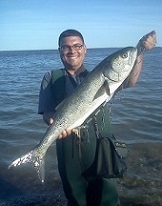 Joined: 28 Jan 2012
Posts: 3823
Location: Bridgeport
Posted: Thu Nov 13, 2014 8:56 pm

Post subject: You're Missing Out on them

---

3 certain items have been getting lots of attention from other casters at Seaside this year, with 1 of them being a repeat from last year.

First off, I recently sold a Saltwater Skitter Pop SSP-12 to a caster who saw me getting into those stripers while he and others weren't doing well. This time last year is when I sold a smaller Skitter Pop SP-9 to one of the usual casters, who has fallen in love with it and now has a collection of the SP-9 and SSP-12.

This year, casters I know have been starting to offer me $$$$ for the X-Rap Walk sizes 11 and 13. They've been amazed at the action, casting, and production, esp after that day I had back in June at the honey hole and recent evenings with monster swirls behind it.

1 other item is something I just started using this year. Other casters have been amazed at the weight, action, power, and backbone. The rod is the 1 piece 7 foot Star Rods Aerial Jetty Surf. It's not a basic surf rod. It's more like a boat rod that is used for surf casting. I have let a number of people cast with the rod and they have been amazed at the great casting and hook setting power it has for the price vs their heavier, more expensive 8 footers. Thursday when 2 usual casters saw me easily set the hook on the second schoolie and watched me cast with it, I let them hold it and get a feeling for it, which ended up making 1 of them offer me $$$$ for it.

Many of you surf casters and boaters who cast don't know what you're missing out on. As for the lures, the closest you'll come to the Skitter Pop is the Creek Chub Knucklehead, and the closest you'll come to the X-Rap Walk is the older Bombers and the Heddon Chug'n Spook. As for the rod, a $65 rod with a 5 year warranty and excellent action is hard to beat for the price with similar items under $200.