Michael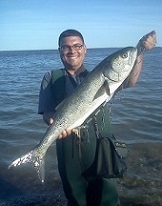 Joined: 28 Jan 2012
Posts: 3823
Location: Bridgeport
Posted: Tue Nov 18, 2014 6:41 pm

Post subject: How's the NJ Run?

---

Has anybody heard reports on how the New Jersey surfcasters have been doing with the fall bluefish run?

I'm so jealous that they get great bluefish runs and someday would love to hit the beaches from those gators!

We didn't get a good bluefish run last month and this month at Seaside. The only good action I saw was that 1 day at the city ramp of blues destroying big bunker.