JimiChanga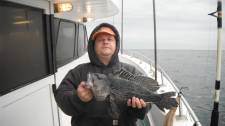 Joined: 04 Mar 2012
Posts: 195
Location: Meriden
Posted: Tue Jun 02, 2015 9:35 pm

Post subject: 2015 CT black sea bas regulation?

---

OK the question I have is this...

Black Sea Bass
Minimum length: 14 inches**
Open Season: June 1 - August 31,
3 fish per angler
Open Season: September 1 - December 31,
5 fish per angler
**Excluding tail fin filament (tendril)
Party/Charter Vessels:
For paying passengers only:
Daily creel Limit: 8 fish per day
Open Season: June 21 - December 31
Daily Logbook Catch Reporting required
on trips taking Black Sea Bass

Now does this mean that the party boat season isn't open yet?
Or if you're on a party boat now(before June 21st) you can only keep 3?

John.