Michael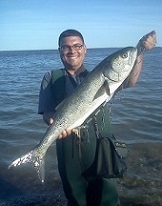 Joined: 28 Jan 2012
Posts: 3823
Location: Bridgeport
Posted: Tue Dec 30, 2014 9:18 pm

Post subject: Somebody had a Meal

---

Back on the 23rd I was fishing Mondo Pond and saw this



I could tell by the legs and feet that it was the remains of a goose.

Same area where I've seen areas of mourning dove feathers, which would mean the work of a Cooper's hawk.

Back in June as sunset was approaching, I heard the sound of a barred owl coming from that direction too. Mondo Ponds has the perfect environment for a whole bunch of birds and animals. I've even been seeing coots and pie billed grebes this month.