Michael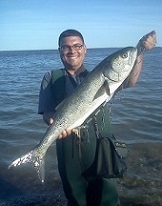 Joined: 28 Jan 2012
Posts: 3823
Location: Bridgeport
Posted: Sun Feb 07, 2016 7:31 pm

Post subject: Beat the Skunk 2/7

---

Sunday I rode my bike to check out the conditions at Twin Brooks. Arrived around 2:30.

The main pond had a large area of solid white ice with the rest being very skim ice. There was a small area of open water.

The larger pond was about 1/4 open while the rest was very skim ice.

The pond by the gazebo was mostly covered with very skim ice.

The last pond on the right had a good amount of open water where Booth Hill Brook feeds in.

I hit all 4 ponds sticking with a Helsinki shad HJ-6 and also throwing a white chatterbait jig. Never had a single hit of follower.

Couldn't fish the funeral home due to very skim ice covering it.

Decided to go to the Pequonnock at the Wonderland of Ice. Hit my 2 usual spots with the HJ-6 and a pearl white 1/8oz inline spinner. Beat the skunk by catching an 8" largemouth on the HJ-6.

Threw the HJ-6 at the lower tidal area at Glenwood Park but niente.